Published on | News
We're delighted to introduce our new Commonwealth Games litter of super cute cocker spaniels, named by you!
We recently took to social media to ask you to vote on suggested names for our latest litter of cocker spaniels, who were born last month. We were amazed at the response with you voting in your thousands which we really appreciated.
We worked with our colleagues at Birmingham 2022 who came up with some great name suggestions honouring some fantastic local sporting heroes and we put those names out to vote in order to name four out of the five pups. They were all worthy winners but today we can announce the final five names:
Ellie, Tessa, Fraser, Tommy and Jodie.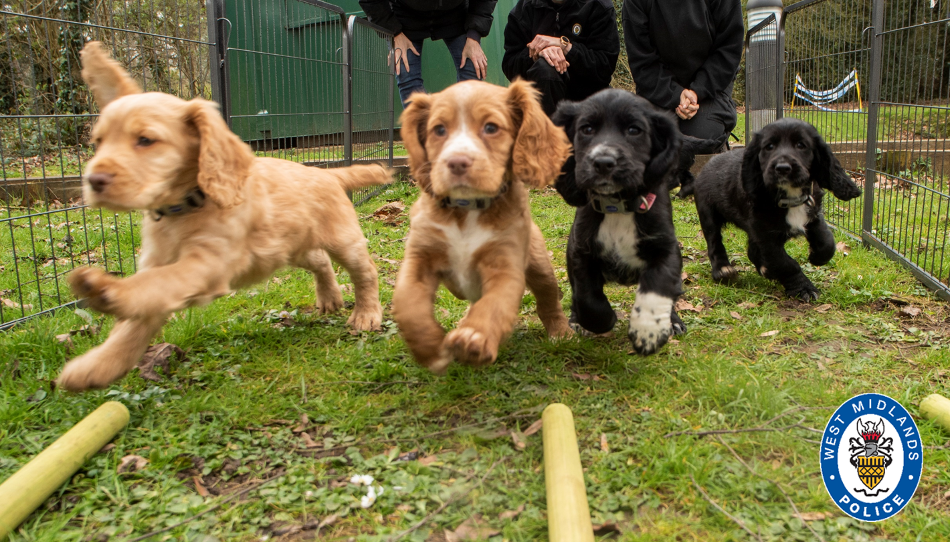 They are named after swimmer Ellie Simmonds, athletics icon Tessa Sanderson, gymnast Joe Fraser, cycling legend Tommy Godwin and triathlete Jodie Stimpson
The puppies were born into our world renowned puppy development programme with a view to being fully operational next year.
Throughout the programme, they will be teamed up with one of our volunteer fostering families and will go on a structured training programme, hopefully joining the team for the Games next year. We will be following them every step of the way and keeping you up to date with how they're getting on.
The majority of our detection dogs are spaniels and they will be a vital part of our security operation for Birmingham 2022 when we will be using over 150 dogs throughout the lead up to the Games across all the different Commonwealth Games venues.